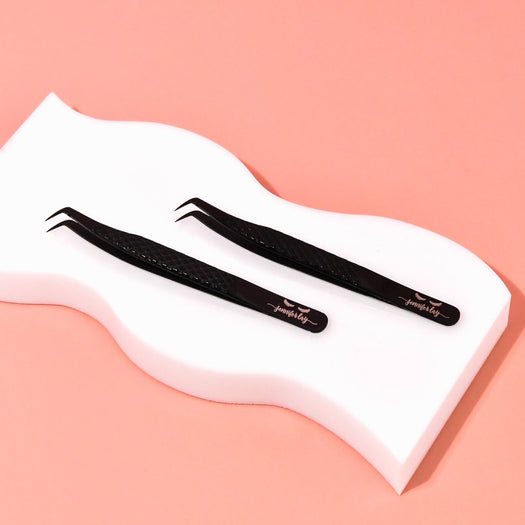 Miss Booty Volume Tweezer
Description
Welcome our Miss Booty Tweezer!
She's made from high quality Japanese steel with a glossy black diamond cut grip finish.
She has a wide range sweet spot but not 100% full range.

We guarantee the Miss Booty Tweezer to pick up 8 volume fans. 
All tweezers are triple tested using 0.03, 0.05 and 0.07 lashes.
Every volume tweezer comes with a free JLL single tweezer case.

Please be mindful with soaking times as this can tarnish the look.
All tweezers come with a certification + care instructions.
Each tweezer is hand crafted therefore you may see or feel slight variations between each pair.
Please check your order before processing payment.
No returns offered for change of mind.
See T&C's for more info.
Miss Booty Volume Tweezer
These became my new all time go to!
These aren't my usual shape of tweezer to use but i have found lashing a serious breeze mega volume pick up no worries! i quickly jumped back on to order a second pair!
Best. Tweezers. Ever!
Literally have tried dozens of volume tweezers for making up to mega volume fans and nothing compared to these! Not a single stray lash when picking up off the strip! They're lightweight and comfy to use and the sharp tip means easy fanning. So impressed I'll be getting a couple of spare pairs for rotation!
Great tweezers
Very sharp and pointy that gives good control of fanning out your lashes. Has a good soft tension and sweet spot.
GAME CHANGING
Miss Booty is my new found obsession! Forever looking for the perfect tweezers and finally my search has come to an end! The thin width, the sweet spot, the ability .. it's revolutionary! You have to purchase ASAP!