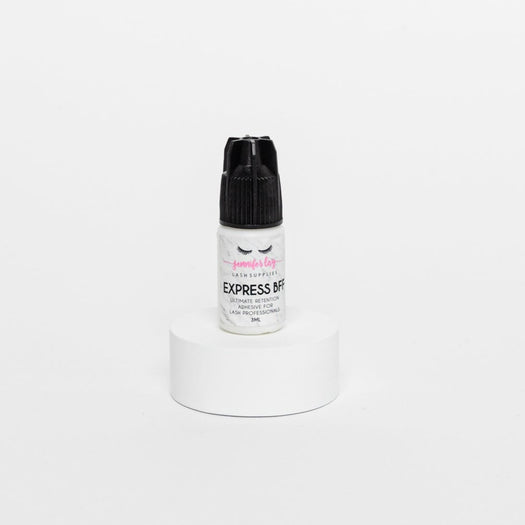 Description
Shop multiple packs here
Our secret to amazing retention is here...
Your favourite adhesive now come in 3ml!
Great for part time lash artist
Want to test our best selling lash glues
Looking for a lash extension adhesive with the best retention and the ability to be used in a wide range of conditions?
Our popular adhesive, Express BFF (0.5-1 sec) 3ml is the ultimate retention adhesive for lash professionals. Easy to use and with low fumes, you will understand why thousands of lash artists have made the swap!
Formulated in Korea without Hydroquinone (skin-lightening agent) and latex. All of our adhesives are tested on lash lovers, not furry friends.
How to use:
Shake for one minute at the start of each day.
Shake for 30 seconds before each new drop.
Ideal temperature is between 18-24 degrees.
Ideal humidity is 50% - 60% (0.5-1 sec. For humidity lower than 50% drying time could be 2-3 seconds. We recommend using our glue 'Accelerator' to speed up drying time.
The higher the temperature and humidity, the quicker the drying time.
Store up right in a glue storage container, leave in a cool dark place away from any heat sources.
Recommended to write the date you opened your adhesive on the bottom of the bottle.
Discard any unused glue four weeks after opening.
Unopened adhesive may be stored in your fridge. Take out and let it cool to room temperature before using.
During summer:
We do not ship adhesives over the weekend.
All adhesives ordered from Thursday afternoon to Sunday, will be posted the following business day.
We do not carry any responsibility for compromised glues due to hot weather or incorrect storage.
Need more information on our adhesives? Click here.
You will find the batch number on the base of each glue bottle.
This indicates the date the adhesive was manufactured.
The expiry date is 6 months from date of manufacture.
BC26G22 Aug 4th 2022
BC04K22 Oct 19th 2022
BC03L22 Nov 5th 2022
BC09A23 Jan 16th 2023
BC04E23 May 22nd 2023
New batch numbers from any glues purchased from October are now the date of manufacture.
JL05/09/23
Love it!
Great glue, find it very reliable and good retention!
Hi Jennifer,
Thanks for taking time to review one of our best selling products!
We are so happy to be a part of your lashing journey!
JLL xo
Amazing best glue especially if your client has sensitive eyes!
Amazing retention!! This glue usually gives me 3 -4 weeks I also use the super Bonder. I have client who has gone to multiple lash techs and has had reactions I used this glue and no reactions!! Definitely recommend😊
Thanks for your incredible review Letitia! Appreciate it xo
Great glue with great retention
Love this glue, I only lash part time so the 3ml bottle is great. However the bottle itself is quite hard to squeeze the glue out in comparison to the 5ml bottle.
Hi Danielle
Thanks for your review! We're so glad you're loving our 3ml bottles - they're perfect for part-time lash artists!
Thanks for your feedback re bottle size being difficult to squeeze, we will take that on board x
Thanks for your 5 star review Nancy! Xx
blown away
this is the best adhesive i've ever used . so easy to work with and no irritation for clients !
Love to hear that Adele! Thanks for your kind review xo