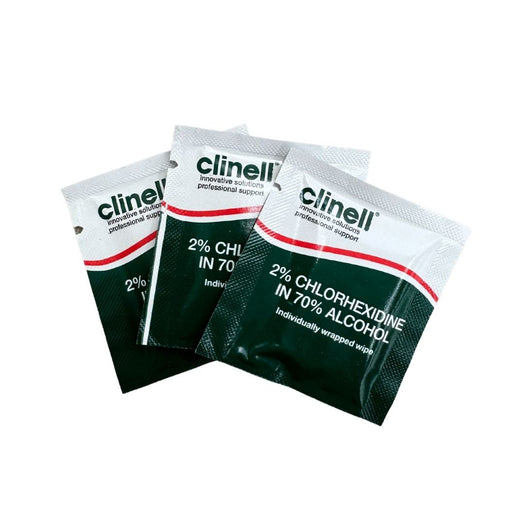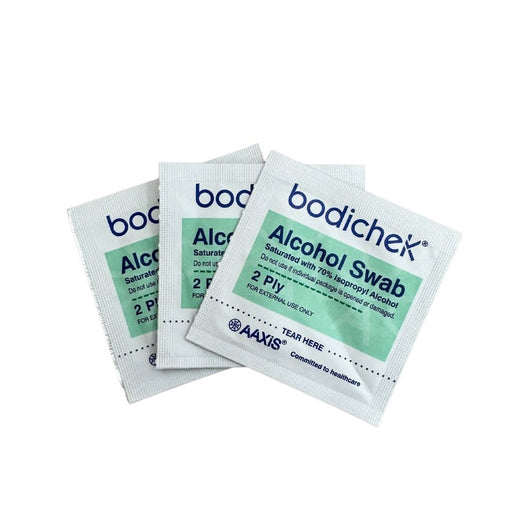 Description
BODICHEK ALCOHOL SWABS

Saturated with 70% Isopropyl Alcohol.
Size: 3x3cm 2 PLY
Clinell Alcohol 2% Chlorhexidine Medical Device Wipes highly recommended for use with lash tools
Clinell Alcoholic 2% Chlorhexidine is a disposable disinfection wipe for medical devices pre-saturated with 70% alcohol and 2% Chlorhexidine gluconate. It is used to disinfect medical devices specifically designed for - catheter hubs and ports, needle free devices, cannulas and blood culture bottle tops.
It was brought out to provide disinfection under guidelines set out by EPIC2 and Saving Lives. CA2C240 is a class IIa medical device regulated under the Medical Device Directive 93/42/EEC under the supervision of notified body number 0473, AMTAC certification services. In certain countries, it can be used as part of a medical procedure, e.g. as a pre-injection swab, according to local regulations. 
FAST ACTING, LONG LASTING Provides benefit of rapid antimicrobial action and excellent residual activity.
PROVEN EFFICACY Proven to be effective at disinfecting central venous catheter hubs and sampling ports.
LARGE SIZE Revolutionary large size 190 x 105mm.
BETTER THAN TRADITIONAL METHODS Proven to be superior to both 70% alcohol and 10% povidone-iodine for preventing central venous and arterial catheter related infections.
GENEROUS SATURATION These wipes are much less likely to dry out than others on the market due to their saturation level.
Hebe
These swabs are amazing for cleaning tweezers and my old lash tray to make my pre-made in! The only place I purchase from!
Kayla Payet
100% recommend these alcohol swabs. Helps me get remove the glue sometimes off my tweezers. you get heaps as well and they'll last you ages!